Columbus Ohio's leader In decorative concrete



A commitment to excellence
Timeless Impressions is the true definition of a "grass roots" construction company, home grown and raised right here in central Ohio. For a company like ours reputation is everything. From the initial estimate to the final walkthrough we keep constant contact and uphold the highest standards in customer service and quality control. We believe a small, skilled crew rather than a large workforce gives us the edge over the competition. Attention to detail, pride in our work, and customer service is the model we follow here at Timeless Impressions Concrete.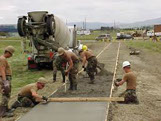 15 years ago when the housing boom in central Ohio was at its peak, decorative concrete was very unfamiliar to the general public and mostly used in commercial applications because of all its wonderful characteristics. We were heavily involved in this boom and built thousands of concrete driveways, sidewalks, and patios. Naturally when the decorative concrete suppliers followed trend we jumped in head first. Through years of learning the craft we are now able to use this wonderful material for just about everything. With all of the new technologies in the industry you can create amazing hardscape designs that are as functional as they are beautiful. It is such great way to express your creativity alongside building and engineering fundamentals. Let us use our expertise to help you create your unique and personal living space that will stand the test of time.
Joshua S.
President
Copyright © 2014Timeless Impressions L.L.C. All Rights Reserved.
Timeless Impressions L.L.C is not affiliated with any of the above partners and claims no rights to above trademarks or logos.